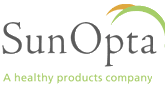 "SunOpta Inc. announced that the SunOpta Fruit Group has entered into an exclusive supply agreement with Zhejiang Yumberry Juice Co., Ltd. to market Yumberry juice concentrate initially in the United States and also in Canada after one year.

The agreement excludes certain existing customers. Yumberry is a native Chinese fruit harvested organically from one-hundred year old trees in the valleys of Xiangu.

Yum, short for yummy derived from its native name Yang Mei, has been harvested in China for over 2,000 years for its healthy attributes. This deep red fruit is high in antioxidants and contains a wide range of vitamins, including vitamin C, thiamine, riboflavin and carotene.

Yumberry is used in diverse applications ranging from fruit juices to bakery applications, wines, cocktails and dairy products. Organic Yumberry juice has a sweet/tart balance that can either stand alone or be mixed with other juices or flavors. The harvested fruit is carefully selected, pressed, de-pectinized, filtered, concentrated and pasteurized before being shipped to North America. The juice is also available in single strength."
Read the article