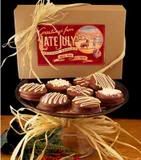 I know during the holiday season how difficult it is to find the perfect gifts for friends and family. I can't imagine how many hours people spend every year thinking "Will (insert name) like this? Or this? Or this?" Fortunately I have found a solution for this year's shopping woes:
Hand Dipped cookies
from
Late July
.
I
posted this news release
about the cookies not too long ago, and before I knew it, the kind folks from
Late July
shipped me a box to review.
The verdict? They are exquisite! Not only are they beautiful to look at, but they are also incredibly delicious and high in quality. Taking a bite, you can taste all of the work that went into them. The flavors of chocolate work perfectly with each cookie. (I also loved the sprinkles of peppermint bark!) Although it's hard to pick a favorite, the vanilla bean cookie covered in milk chocolate definitely stuck out the most to me.
To top that off, the cookies are wrapped in a charming little eco-friendly brown box, ready for someone to enjoy.
I can't imagine a gift better than this. No matter who you give them to, friends, family or co-workers, I have no doubt everyone will love them.
Buy some for yourself or your loved ones
and rest assure the holidays will truly be happy (and delicious!) this year.